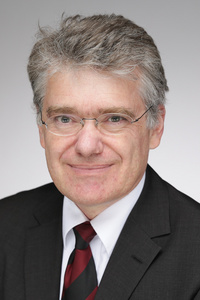 Chairholder
Prof. Dr.
Markus
Taube
Room:

LE 704

Telephone:

+49 203 37-94188

Fax:

+49 203 37-94157

Email:

Consultation Hour:

nur nach Vereinbarung per Email!

Address:

Universität Duisburg-Essen
Mercator School of Management
Fakultät für Betriebswirtschaft
Lehrstuhl für Ostasienwirtschaft/China
Forsthausweg 2
47057 Duisburg
Curriculum Vitae:
Prof. Dr. Markus Taube holds the Chair for East Asian Economic Studies / China as a faculty member of the Mercator School of Management. He is the Director of the IN-EAST School of Advanced Studies at the University of Duisburg-Essen as well as a Co-Director of the Confucius Institute Metropolis Ruhr, a Sino-German organisation for cultural exchange and civil society dialog.
Markus Taube has been appointed to Visiting Professor positions at Nankai University, Tianjin, PR China, (2014-2017 "1000 Plan"), Ca`Foscari University, Venice, Italy (2015-2016), Huazhong University of Science and Technology, Wuhan, PR China (2017-2020), as well as Jilin University, Changchun, PR China (2017-2022).
He is a member of the Advisory Boards of the Mercator Institute for China Studies (MERICS), Berlin (since 2013), and the Chinese Economic Association / Europe (CEA) (since 2016), the Research Council of the Stiftung Wissenschaft und Politik (German Institute for International and Security Affairs, SWP), Berlin (since 2017), as well as a Member of the Experts-Group for the "Sino-German Innovation Platform" at the German Federal Ministry of Education and Research (since 2017).
Furthermore Markus Taube acts as President of the Euro-Asia Management Studies Association (EAMSA).
Markus Taube started his academic career studying sinology and economics at the universities of Trier and Wuhan (PR China) and received his doctorate at the Ruhr University Bochum. With his dissertation he became the Walter-Eucken Prize laureate of 1998. Before joining the University of Duisburg-Essen he worked at the ifo Institute for Economic Research, Munich. He is a founding partner of THINK!DESK China Research & Consulting.